REALLY Great Teacher Appreciation Gifts You Can Do!
As a teacher, I got some really great gifts and some not so great ones, given with LOTS of love. However, even with the LOTS of love attached to them, some would make it to my attic in a box or collecting dust or oops...did that land in my trash can? Recently, I was looking online for some teacher gifts and scrutinized all the ideas I ran across and so now I have a list of really great potential gifts that we can give on a budget and do ourselves.
My first favorite was
a simple card
. I love the organic look of the prints and the awesomely simple "thank you". It leaves plenty of room for personalization and the designer gives you instructions on printing and cutting that are fool proof and this same designer also designed these...
More of her beautifully organic prints on "
calling cards
". The cards would be an ideal gift for teachers with simply their name and e-mail address. The cards could come in handy throughout the year. You can personalize them, print, cut and package for giving.
A few weeks ago I received my weekly e-mail from one of my favorite websites. I'm not sure if this girl is constantly giving gifts or just likes the idea of it but there are TONS of great gift ideas for teachers. One of my absolute favorites was this
pencil sharpener
that you personalize yourself. She has a huge long list of more ideas too. Be sure to check out her links for pretty packaging as well.
Here's an idea you can run with. Everyone needs a little more help being organized and these
magazine holders
will do the trick on a teachers book shelf. I'm thinking classroom pictures or drawings from the class but you use your imagination.
One of my favorite bloggers posted this link awhile back and I thought it was absolutely adorable for a teachers gift at the end of the year when a r
efreshing lemonade
will be much appreciated and this idea.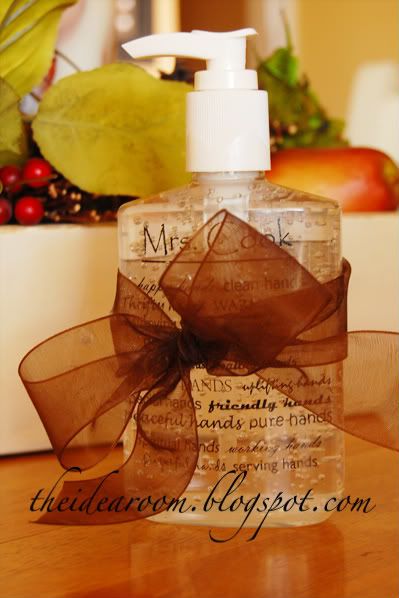 Also check out this tutorial for
personalized soaps and hand sanitizers
that can be used for any gift giving occasion. This is probably my favorite because it seems the most personalized and doable!
These are my favorites and I think the easiest out there and there are more links on some of the ones I featured above. If you have any ideas or know of any I might could use, please let me know. Enjoy!