Everyday Vintage & My Fresh Spaghetti Sauce Recipe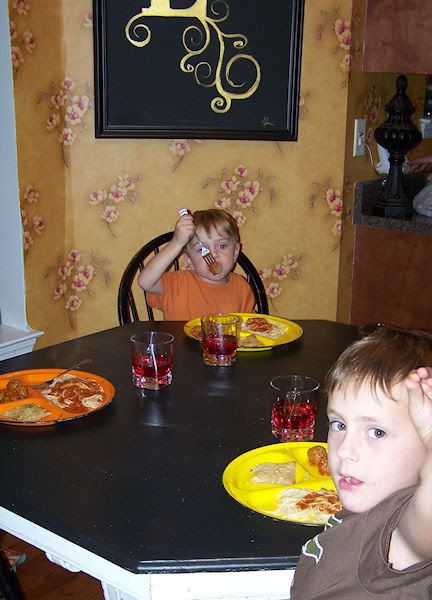 Notice anything special on my table?
These beauties where Number 1 on my
list
yesterday and not by chance.
My porcelin / metal plates were a gift from my Memaw, they are HUGE too. James was excited about how much spaghetti was on his plate tonight.
but apparently not as excited as all the calls he got today about the Honda he's selling on Craigs List...geez Louise!
As I'm typing this I"m still in the bed...I'm getting quite aggravated because my sheets are all wrinkly and waded...I hate that. I love it when the sheets are fresh and smooth and tight...where does that come from and why does that apply to this post? I don't know!
3 Cups of small ripe tomatoes (or large cherry tomatoes)
2 tbs of minced garlic
1 tsp of fresh ground black paper
1 tsp of salt
1 tbs of Oregano
1 tbs of Basil
1tbs of Parsley
1 tbs of flour
Blend together in a food processor or blender and simmer for 30 minutes on low to marinate ingredients together. Add salt and pepper as needed. This is a simple and fresh sauce...veggies can be diced and added, my favorite veggie is zucchini and maybe some carrots. Thanks to my neighbors for bringing me the most delicious tomatoes ever!
Home grown, right off the vine! YUMMM! This sauce was basically FREE! I didn't have to go to the farmers market for these babies!
Now, you can use canned tomatoes if needed. You can also add peppers and onions but my kids don't like those flavors like I do, so I keep this one simple!
Enjoy! I know we did!