Do you just love a new space?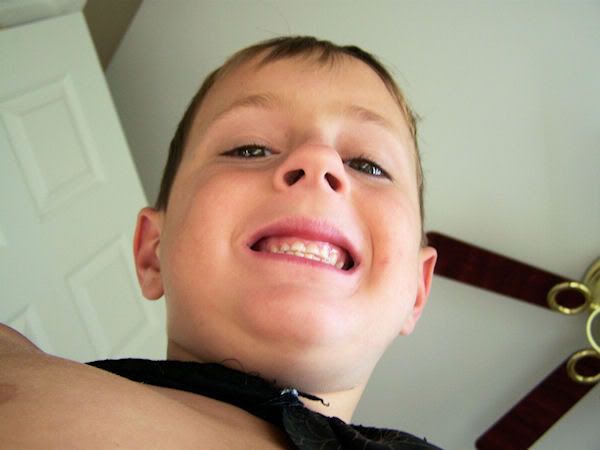 Brat! I told him to get my camera for me this morning and he thought he'd take pictures of himself in his super hero cape and no shirt... so anyway, what I wanted to show you was what Jake did to his new space.
So, Jake now has a toddler bed and can get into EVERYTHING in his room, even the baby powder...so look closely, it's in the bed, on the bed, in the clothes, on the window sill, in the carpet and all over him. Evan was so happy he put his "rally" hat on and grabbed his laptop so he could blog about it!
This is my new sewing room!
Yes, I'm getting to move into a new room, AGAIN! I'm so tickled though because the room has such pretty walls...see my clouds! I love them! But I plan on putting lots of bright colors and black...I'm needing some black to go with all the colors so my room will look as creative as
Paula Prass
. See! Aren't her fabrics glorious!
If you haven't discovered Mrs. Paula's fabrics, let me be the first to show you. Go to her website...linked above and let her know I sent you!
Paula has my heart! I love her!
and I'm sorry that I exposed you to my nasty
kids diaper! That was my present this morning!