A Can of Black Spray paint is my New Best Friend!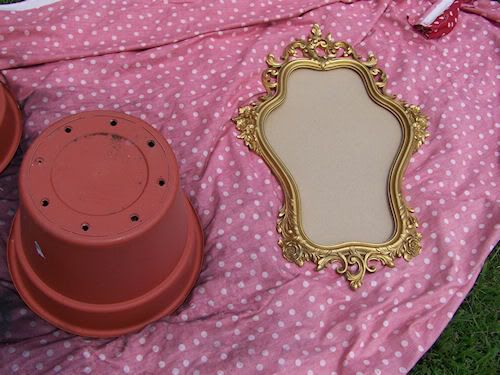 Ha Ha, I was looking at this thinking, that's weird how there's not a reflection of the sky...DUH! I took the mirror out!
I found this mirror at a yard sale for $2.00. I think those old home interior pieces usually have alot of character, just not in a brass or gold tone.
I'll show you what the pots are for coming up when I show you another project I've been dying to reveal!
Now, this mirror is lovely!
All you have to do is take out the mirror from the back or do what someone else did and cover it with Vaseline. I didn't want to clean up that so I reached for the screw driver.
The fabric is a drop cloth I reuse over and over. It's not a good fabric for sewing because the red faded into the white and is not longer red and white polka-dots.
So, it's got black spray paint all over the bag side.
Spray, come back again and spray, and one more time, SPRAY! Make sure you don't have any gold showing anywhere!

Resemble and hang! Please ignore the bazillion light switches. My husband wired our house so all rooms have at least 3 and we have 16 phone jacks, holy man!