Eliminate the CHAOS at Dinner Time!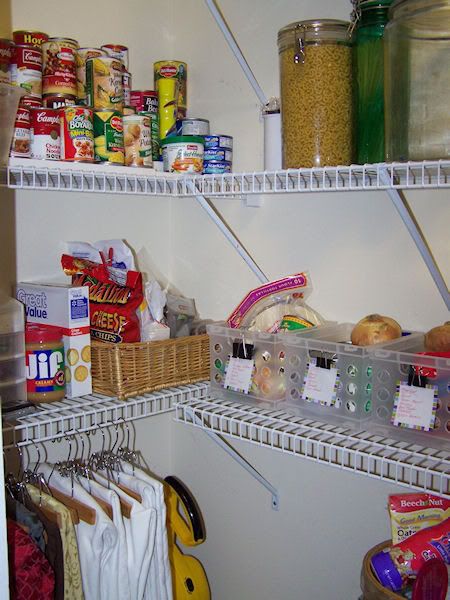 Repost: Original 7/20/09

I guess it won't hurt to show you my pantry.

My pantry is organized by sections.

I have snack foods such as crackers, chips and peanut butter on one shelf, canned goods on another, boxed goods have their own section. Breakfast is a section all its own along with the baby food and even my table cloths are hung with care, right next to my mini vacuum for my downstairs rugs.

But what I really wanted to show you is how I organize meals for the week.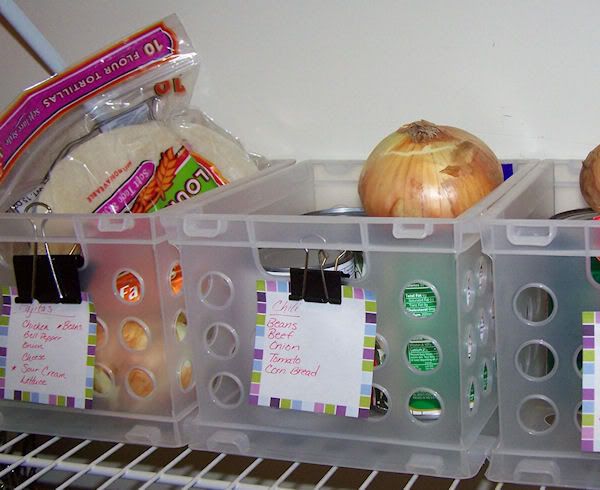 As you can see I have these plastic bins. They are cheap and the perfect size for dry goods. I have 5 of them because we always have "leftover night" just like the movie "Incredibles". I also figure if God rests one day of the week, so should I, so we'll probably have fish sticks or sandwiches...something simple. This also helps my husband out if he ever wants to fix dinner. Everything is either in the pantry or the fridge.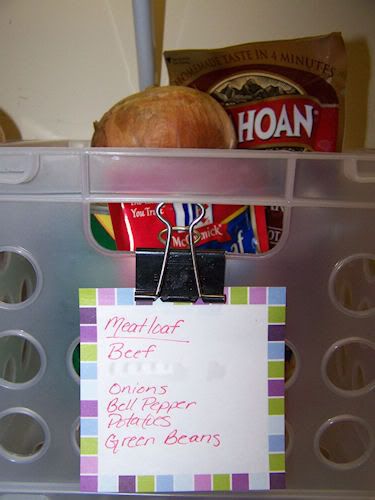 So, on one night I plan to have meat loaf...yummm. We love it.

I listed the ingrediants and sides and threw what I could in the bin. The seasoning, onion, can of green beans, and yes, the powdered potatoes. I hate peeling them and they tend to go bad so I buy the pouches of seasoned potatoes. It works for us.

I also keep a running list of items we will need. For example, we forgot to buy refried beans and sour cream. That'll I have to stop for one day while I'm out anyway. I also have a list of meal ideas for items we have in the pantry so I'll add additional items to the "go get'em" list to accompany what we may already have.

So, that's how I eliminate the CHAOS at dinner time.