Basic Sewing Notions and Tools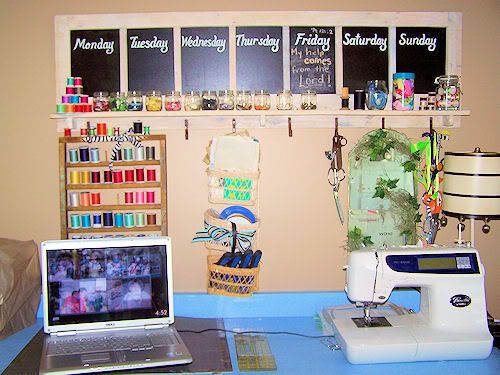 A few months ago, I had my dream sewing room. I gave it up for a special reason but now, I can have it back. So, I have to move everything and I've been going through all of my sewing supplies making a list of things that are missing that need to be replaced. Every time I see this picture I get jealous because I want this back and soon. So, I thought I'd go over "Setting up your sewing area." My sewing class will go into more detail.
Basic Tools
Bent Handle Shears or Rotary Cutter/Mat
Scissors (small for snipping threads)
Tape Measure (fiber glass so it doesn't stretch)
Yard Stick (I like metal)
Smooth Tracing Wheel & Tracing Paper
Tailors Chalk
Assortment of Thread Spools and Bobbins
Sewing Machine (of course)
Thimble & Dress Makers Silk Pins
Glass Head Pins & Safety Pins
Pin Cushion (I like magnetic)
Ironing Board and Steam Iron
Pressing Cloths & Tailors Ham
Sewing Needs (Machine & Hand)
Oh and can't forget...
A Seam Ripper
2" wide clear ruler
Additional items I cannot live without...
Serger
A large assortment of notions on hand
Bobbin and Thread Organizer
If you want to seriously learn to sew and sew like a professional, you need to
acquire only the basic sewing tools necessary
to complete the immediate project. You can add extra items as your skill level progresses. Save yourself time and have your sewing tools stored by categories. For example, I hang all of my scissors (see above picture), extra buttons are stored by color, thread is organized by color and is easily accessible. Keep all your marking tools together in one place and all your fasteners orgainzed using small containers...I love small baby food jars and plastic containers (think "reuse")
Keeping your tools organized and handy will make projects go by much faster, invest in a good sewing box when you are ready but any box with a lid can be sectioned off with smaller containers within.
Now! GO! Get together all of your sewing supplies. Have your scissors sharpened if needed and invest in the best you can at the time. It's worth it.